8th Grade Essay – How has Heritage lived up to its mission?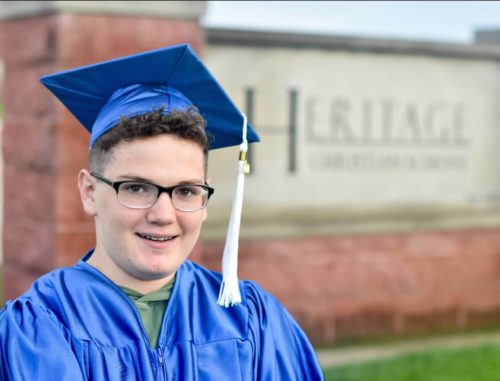 Cameron Miller
8th Language
Miss Veenstra
May 19, 2020
Heritage Mission Statement
            The mission of Heritage Christian School is to serve Christ by partnering with parents to provide Biblically faithful, academically excellent education. This is a great model for any Christ-based organization. As Heritage Christian school partners with parents to provide exquisite education, one may witness how they fulfill their promise to every family who attends. This statement has lasted for generations.
Let us break it down first. "The mission of Heritage Christian School is to serve Christ." Heritage serves Christ every day with whatever they are teaching. Looking to provide           long-lasting friendships throughout their time is one of the most important things to a teacher. When I first came to Heritage, I joined in second grade. It was like my teacher had known me forever, and yet we just met! At that time, I had known a couple of kids in my class, but the rest of the kids were super welcoming. I have been attending Heritage for seven years, and most of the friendships that developed in my personal life came from Heritage.
Next, "to provide a Biblically faithful…" Every day we do devotions that strengthen our walk with Christ. Throughout every class, the teachers connect our learning to the truths of the bible. For me personally, it has been an eye-opening experience into the Word of God. Growing exponentially, my faith has made me feel more confident than ever. All of my teachers worked through the struggles of doubt and perseverance throughout my faith, and I am sure that is true for every other student.
Lastly, "academically excellent education." This year especially has been a year of fruitful learning. First, math. Math this year has been a roller coaster. There were many times when I wish math would just disappear, but then I realized that nothing would work if it were true. For the last three years, Miss Veenstra has taught me math, and she just has this way of teaching the cliques with each student. Learning is a gift for many people, so I had to recognize that when doing math. It is amazing how much I learned and how much Heritage soars above and beyond to provide the best education for every student personally.
Clearly fulfilled for each student, the mission statement tat Heritage allows for each student to have a lasting relationship with our Father. This Christ-based organization has everything that it needs to prosper in order to discipline those in the area. Placed in North  Liberty on purpose to serve these people, God clearly had a plan to start a ministry here. Bringing in many new students, we need to take steps to make sure they receive the best education and faith for anyone.