Heritage Stories

Brian & Darcie Ahrens
Heritage Parents
As we enter our 15th and final year at Heritage, we reflect on the direction God has guided our path. We moved to Darcie's hometown of Coralville the summer before our oldest was to begin Pre-Kindergarten. Our nephew was enrolled in the Heritage PK program, so we decided it would be a great opportunity for the boys to be together. So began our journey with Heritage Christian School, and three students later, we could not be more thankful for this blessing God bestowed upon us.

From the beginning, we could tell there was something special about Heritage. The teachers' love and enthusiasm for teaching and for the students could be felt just by walking down the hall. The passion for developing a love for Jesus and a biblical foundation was evident. There was a sense of peace and honor throughout the school.

The school fully lives up to the mission. The staff at Heritage are truly invested in your child. It is not uncommon to see the teachers and staff cheering on students at sporting events or extra-curricular activities. The teachers partner with you to make sure your child is thriving academically and spiritually. Our three children have very different learning styles. The diligence and partnership with their teachers made the transition to high school, and now one to college, smooth because their academic, and most importantly, biblical foundations were set.

As we have ventured into the high school experience, it has been wonderful to see the alums branch out and try new things. They excel in music, theater, sports, clubs, and leadership positions. The classmates check in with each other, seek each other when they have group projects, and offer support and encouragement. High school staff recognize Heritage alum not only for their academic excellence, but their perseverance, kindness, servitude, and leadership. God is at work as these graduates strive to fulfill the attributes stated in The Portrait of a Graduate.

For us as parents, one of the greatest gifts is being able to be involved at the school and developing relationships with the staff, students, and families. Volunteering in the classroom, driving for field trips, serving lunch, or assisting with special events, provides an opportunity to build a strong family community and to see the special way in which God is at work at Heritage Christian School.

As we transition from our final year at Heritage, we are so thankful for the journey that brought our family to Heritage, and for the numerous staff and families that have poured their love into our family and Heritage's mission. We are excited to see how God continues to use Heritage as a beacon of light to our Heritage families and our community.

---

Scott & Nicole Kallemeyn
Heritage Parents
Our family has always believed very strongly in the value of Christian education and we are very fortunate for Heritage Christian School. Even before we had children and were still pursuing our own education in Iowa City, we began to hear about the history and reputation of HCS from other families in the area. We heard about the mission of HCS from members of our church and other friends. They enthusiastically shared about the school's academic excellence, biblical focus, and the small size and caring environment. It was at this time that we began a desire to learn more about the school by going to an Educating for Eternity event. Because of the message, stories, and relationships we began to build by attending EFE, we began to support HCS, and have now done so for many years.

We now currently have three children that attend HCS, and we are so very grateful for the school. Primarily, we believe in HCS because of the biblical worldview by which the challenging academics are taught. Our children and many others are blessed with the opportunity to explore God's creation, His grandeur, and His redemptive story in many vivid ways that we don't believe exist in any other setting. Moreover, HCS students are also challenged to see how they are part of these and how it all has meaning for them too. One of our favorite parts of HCS is that our kids are constantly in the Word, building a foundation for life on the promises spoken in scripture.

We also appreciate the reputation for and continued focus on academic excellence. In addition to the favorable comparisons to other schools across the state, we routinely hear from other parents and HCS alumni how students from HCS are exceptionally well-prepared for secondary education. We have seen this academic focus delivered through the relational staff that have loved our children as they challenge them. The small class sizes also enable a personal and trusting environment. There are also many creative learning opportunities including wax museum/character presentations, writing projects, field trips, and career exploration fairs, to name a few.

Finally, we are blessed and grateful for the loving support of the HCS community. While our children have made wonderful friendships with fellow classmates and teachers alike, we as parents have also been able to connect with other families and develop meaningful relationships. In particular, the support of HCS has been made so very real to us this last year as our family went through a very tragic time. The HCS community helped us navigate the difficult circumstances by bringing us food, offering rides, offering to watch our kids, and really helping us out any way we might need. But more than anything, we felt every day the prayers of other believers lifting us up, caring for our children, and being the hands and feet of Christ.

We are so very grateful for HCS and we know it has been the best choice for our family and it is a blessing we experience every day.

---

Tony & Sarah Greazel
Heritage Parents
Heritage Christian School has been a blessing to our family in many ways. The mission (to serve Christ by partnering with parents to provide biblically faithful, academically excellent education) and vision (to be a leader in developing passionate lifelong learners committed to Christ) of Heritage are what drew our hearts to Heritage and began our journey. Upon our first visit to the school, it was crystal clear to us that Heritage is first and foremost concerned with training its students to become mature disciples of Jesus Christ.  It was very apparent to us that this school was filled with people who desired to partner with us in our pursuit of raising our children to know who God is, what He has done throughout history, and who that makes us as His image bearers.

In 2014 when we returned to our hometown of Iowa City, our two oldest children began attending Heritage once school had already been in session and we wondered how they would be received into their classes.  Our family experienced the warmth and care of the Heritage community right away as the teachers and students wrote letters saying how excited they were for our children to join their class. They were able to make quick friends once they arrived on that first day in a new environment.  We had such a great experience and so supported the mission of HCS that we didn't hesitate to enroll our two younger children when the time came, and in 2018 Sarah joined the HCS staff as a 1st Grade teacher.

Heritage's mission is not just words on the wall.  It tangibly translates into every aspect of the curriculum and the student experience with the desire that the students will develop into mature disciples.  On a daily basis the students are taught biblical truths, what God's big story is, how they are a part of it, character traits that God desires of us, and how they can use this knowledge to grow closer to the Lord while sharing these truths with the world around them. All of this is woven throughout their daily lessons (in every subject, not just Bible), taught in chapel, discussed when discipline is needed, demonstrated to them through daily interactions, and they are given the opportunity to live this out.   Students memorize weekly Bible verses, attend weekly chapel (and break-out groups for the older kids), and make connections to all they are learning to biblical truths and given a WHY for learning. Students are taught how to critically think about what they are being taught, or influenced by, and decipher if that is what God teaches or calls them to live out. Since classes are small at HCS, students have the ability to ask deep questions and discuss them as groups.  Teachers are open and willing to discuss these questions at length to guide the students to deeper understandings.  The students are given opportunities to live out what they are being taught.  Our own children are thankful and glad to be in a school where they can learn about God and that their teachers care about them growing in their faith in Christ.

From a teacher's perspective, HCS has provided an opportunity to come alongside parents to partner in their child's growth spiritually, academically, emotionally, and relationally.  It has been such a blessing to be a part of a staff who all believe in the mission and vision for HCS and are called to help each child grow. It is amazing to see how God works when you relate all that you teach to who He is and who He has created us to be.  God moves in mighty ways in both the big and small students that walk through our halls. To say that Heritage has blessed our family, is an understatement.  We thank God every day for Heritage and the beacon of light it is for our community.

---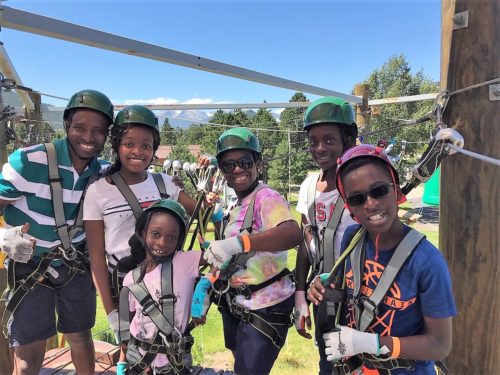 Uyime & Titilayo Ituk
Heritage Parents
We are privileged to be part of the Heritage Christian School family. Our journey started five years ago with our eldest child, Kufre, transferring to HCS for 6th grade. Though she was receiving a good education in our local public school, we wanted something more—an education that points her to Christ. We prayerfully considered HCS, took a tour and were delighted to see that every activity and class lesson are truly Christ centered. We found the teachers fully engaged with the students and dedicated to their calling.

After our first year, we transferred our other children to HCS so they could partake of this priceless treasure in our community. In the time we have been part of the HCS family, the first impressions we had about the school have remained true. The academic experience for our kids at HCS is second to none, but of greater importance, their souls are fed daily from God's Word. The teachers at HCS are dedicated to the well-being of our children and truly partner with parents in raising children that will glorify God.

The school, through its involvement in the community, helps the children learn the importance of serving others and how Christ has called us to serve. The school serves not just the local community but also exposes children to how we can impact the lives of people in other parts of the world through our service and giving. For example, we are sponsoring a child in Togo, praying for missionaries around the world, volunteering in the local pantry, helping with some gardening activities in our community, and engaging our kids with the elderly in the nursing homes.

We are grateful every morning as we drop off our children knowing they are in a safe environment and that values we are teaching at home are the same they are taught at school. We know that our children are being prepared and equipped to be a light wherever they go. The verse that comes to our mind is Acts 13:47: "For so the Lord has commanded us, saying 'I have made you a light for the Gentiles, that you may bring salvation to the ends of the earth.'"

HCS truly cares for the children in even more ways than we can list, and we are glad to call it home. Our prayer is that HCS will continue to grow and touch the lives of children and families in our community.

---

Jake and Katrina Cannon
Heritage Parents
In a neighborhood within Johnson County, Iowa one can find an unexpected treasure… Heritage Christian School. A school devoted to a Christ-centered education and academic excellence. We are blessed to partner with Heritage on our path of obedience to raise up children that glorify God and in our responsibility to see that they are receiving an academic education.

We very much appreciated our public education at Lincoln and Kirkwood Elementary and Northwest Junior High in the 1980s. However, we wanted our children to experience an education where Christ is at the center.

Our experience with Heritage began with Jake's younger brother attending in the 1990s as one of the first classes to graduate in 1998. Then our nieces and nephew began attending. During these years, we saw the school grow and improve. It was through the testimony of their experiences that we desired our children would also graduate from Heritage one day.

Now our three children at Heritage (soon to be four) are learning to glorify God while participating in a first-class academic education. The children are learning biblical principles and experiencing Christian love from teachers and staff in their community. This is happening at an institution that has achieved something of great value to us, an accreditation from the Association of Christian Schools International (ACSI) demonstrating a commitment to educating for life and preparing for eternity.

Heritage is unashamed of the Gospel truth as they teach knowledge from a biblical world view. We know that Heritage does not take its mission lightly as we see this mission come through in what our children talk about and bring home on a daily basis. You can see this mission in action too when you visit the school, go on a field trip, or attend a Heritage event. Of recent note, the Veteran's Day Celebration at Heritage was a resounding rally around liberty, service to country, and ultimately the sacrifice Jesus made for us.

When asked a question on her homework "Why did God choose to create you?", our daughter wrote "He chose to create me to praise and glorify Him." Wouldn't it be awesome if more children could have the opportunity to learn this truth? We are so thankful for those who founded Heritage, those that have supported Heritage, and the ones running Heritage today. We feel privileged to continue to volunteer and invest in Heritage to see that it remains a strong beacon of light for our children and future children in our community.

Proverbs 22:6

Start children off on the way they should go, and even when they are old they will not turn from it.

---
 
 Jon and Deb Doorn
Heritage Parents
Following our move from Colorado to Iowa about 13 years ago, we sought out options for Christian education for our son, who would be starting Pre-K. We were invited to attend an Education for Eternity event and learned how Heritage integrates faith with its curriculum. The school was not simply private instruction with a Christian emphasis, but instead, offered a Christ-centered education to equip young people for a life of service to God. Based on what we learned, we decided to enroll each of our 3 children in Pre-K through 8th grade and feel so blessed to have had such an opportunity. Hearing the kids recite memory verses in the car on the way to school (what an awesome way to start the day!) and talk about how faith impacts their life are just a couple examples of how Christ-centered the education is at Heritage. The school has a well-written mission and vision guiding the thoughtful, and Christian approach to equipping children to be servant leaders. One can point to events such as Operation GOOD (service) and the pals program (leadership, character development) to see this mission and vision in action. Over the years, we have been so impressed with all the teachers – every single one has been in tune to the learning needs of our 3 children, who are so very different. In addition, each teacher has worked to strengthen the faith of our children and encourage them in their walk with God. It is evident they see their role at Heritage to impact the world for Christ and have sacrificed (e.g., finances, much time) to enthusiastically take part in this mission. We have nurtured our children's faith by partnering with Heritage and now pray that the Holy Spirit will continue to work in their hearts.

---

 Matt and Jen Traetow
Heritage Parents
Growing up with a Christian education, we sought out a Christian school when we moved to the Iowa City area about 12 years ago. We were thrilled to find Heritage but a little hesitant considering the financial impact to our young family. However, in part to our own experience going to Christian schools, we knew how important it was to have Christ embedded in our children's lives not just at home but by teachers, friends and a community who together rejoice in God's free gift of eternal salvation through Jesus Christ. Heritage Christian School has more than exceeded our expectations. Through Christ's presence, teachers and administration have demonstrated His will in this school. Daily prayers, devotion, and God's Word are intertwined in all the basic subjects and used to assist our children in defending their faith in the world. We can't recognize the teachers enough. Every single one has impacted our children and demonstrated an unwavering faith, genuine sincerity, God-fearing humility and exceptional commitment that is only evident when God's presence and His word are at the heart of their mission. They genuinely love and pursue excellence from every child and for that we are grateful. We are so thankful for the generosity of all Christian men and women who not only contributed to the Christian education we received growing up, but now to those who support Heritage Christian School and its Christ centered mission. We continue to give thanks for the light this school has been in our community and the impact its students will make on generations to come.

---

Mark and Heather Robinson
Heritage Parents
When we were first married, we were not Christians. By God's grace, we became Christians about two years before our first child was born. Of course, becoming parents causes reflection and introspection on a new level. We both look back at our childhoods in our own public school days and realize that God's teachings were vaguely assumed at best, and contradicted or ridiculed at worst.
We actually registered Rachel for Kindergarten at three different schools. After feeling a quiet yet persistent nudge, we cancelled the other two registrations (in tears) and chose Heritage, sensing that God was at work. God's provision of grace was soon obvious, more so each year.
The Heritage teachers and administrators pour themselves into each child. Their hearts ache for them to know God and grow closer to Him. The philosophy of partnering with parents in training a child in the way he or she should go resonates with us. We know God charged us, not the school, with raising our children. We also know that education that does not acknowledge God is senseless. Rachel's first grade teacher said it best, "There is no truth apart from God."
Heritage teachers are engaged with and interested in each one of our kids. They attend their activities, send them cards of encouragement, even in the summer, and beyond their years at Heritage. Heritage is an investment in our children's lives that we have been more than glad to make. We have experienced God's blessings through our choice time and again, eagerly awaiting what He has in store for our family in the future.
---

Doug and Brenda Wichhart
Heritage Parents
Heritage has been a big part of our lives since our oldest daughter, Ellie, started kindergarten 12 years ago. Having attended Christian schools ourselves, we knew the value of Christian education and wanted the same for our three children. We are so grateful to have Heritage Christian School in this community to assist us in the academic instruction of our children, all in an environment that honors the truth of God's word. As our girls have entered high school we've seen that they are well prepared academically and have been taught to be self-disciplined and respectful to their peers and teachers. In addition to the strong academics and spiritual development, we've also appreciated Heritage's role in creating a love for music in our children through the band and Heritage Singers programs. The opportunities that the athletic program offers for all students to develop their skills in a variety of sports has also been a blessing. But perhaps the greatest joy for our family has been the caring staff at Heritage. Because of the relationships they've cultivated with students outside of school, our girls see that following after Christ is not reserved just for the classroom. We encourage you to consider a contribution to the Heritage Annual Fund so more students can continue to benefit from a Christian education that supports our mission as parents to raise children who love and serve Jesus Christ. At Heritage, our children are not only learning what that means but also seeing that modeled in those around them.
---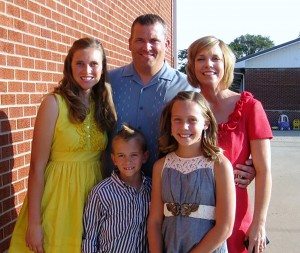 Anthony and Kim Schau
Heritage Parents
Although we were not intentionally seeking out a Christian Education before our eldest started kindergarten, attending a Heritage banquet solidified what we wanted for our children. One of the teachers that spoke commented that each day at Heritage starts out with a devotion and prayer. What a wonderful way to begin each day! Heritage has reinforced and encouraged what we are trying to teach our children, both from home and at church. Our children get to spend their day at school in a Godly environment full of educators and support staff that exemplifies respectfulness, and a genuine Christian love for each child at the school. The academic standard is very high at Heritage, but more importantly, it's teaching of strong Christian values has helped our entire family to grow in our will to live for Christ. When I asked our daughter Kia, a high school senior, about the impact of Heritage, she responded,"Heritage was and still is a second family to me. Everything around me was taught in a loving, respectful way that made me feel safe and secure. It reinforced my faith in God and prepared me well for high school." The value to our family of being at Heritage cannot be given a dollar amount. It is incomparable to any other options that we have and it's an investment that will be a life-long treasure for us all. We thank you and encourage you to prayerfully consider donating to the future of Heritage Christian School so that other children will be prepared academically and emotionally to share the love of Christ with others.
---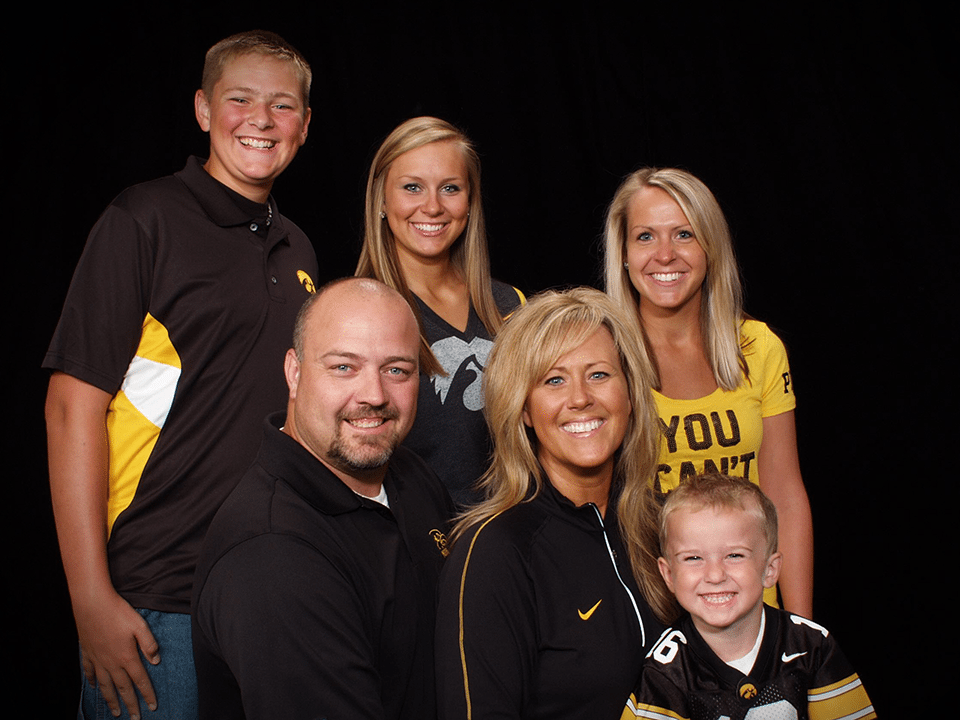 Eric and Melea Ballou
Heritage Parents
We first learned of Heritage when we lived in a different city and a friend of ours that attended church in North Liberty told us about the school. They introduced us to friends of theirs who attended Heritage and highly recommended it…Not only were we getting great reviews from friends, friends of friends, but even a complete stranger! Heritage has truly been a blessing to our family. It is such a blessing to have teachers and a staff that helps raise our child in a Christ centered environment.
---
The Kelly Family
From Left to Right: John Michael, Chelsea, Margie, Timothy and Mike
Chelsea

'02 Alumna

Following my graduation from Heritage, I attended high school at City High, then received an undergraduate degree from Northwestern University. Currently, I am pursuing a master's degree at Covenant Seminary in St. Louis. Through each phase of my education, I have noticed how well Heritage prepared me from a purely academic standpoint. Heritage taught me things that my peers had not learned in their elementary and junior high educations, and as a result I was well-prepared for the challenges of higher education. But beyond that and far more importantly, I found that Heritage instilled in me the knowledge that my faith is not just one compartment among many in my life but is in fact the foundation for everything I learn and say and do. Heritage taught me Jesus in every school subject and helped me understand that He is Lord over all.

John Michael

'09 Alumnus

On top of Heritage having a solid Christ-centered focus, it also is very strong in terms of academics. I feel the background I received at Heritage prepared me well for academic success in my later schooling at West High and Northwestern University. As one example, the grammar instruction I received at Heritage far exceeded that of other area elementary schools. Due to this instruction, I had no difficulty learning to write well at a high school or collegiate level. All in all, I am very happy with the education I received from Heritage.

Timothy

'11 Alumnus

My favorite aspect of Heritage is the way that it prepares its students for every facet of later education and life. Most importantly, of course, Heritage provides a strong spiritual foundation, giving students the firmness in their faith needed to combat the evils and temptations of the real world through reading and memorization of Scripture, prayer, and a strong Christian community. It allowed me to see the way in which God works in everything and how present He is in all circumstances, which is both important and also comforting and exciting. In addition to this spiritual foundation, Heritage allowed me to make great friendships thanks to a small, close-knit class and a very unintimidating environment and to become much better in social situations. My education was incredibly strong thanks to knowledgeable teachers who really care about their students and who want them to get the best out of their schooling. Heritage built in me a good work ethic and helped me grow up in the LORD, and for that I am extremely grateful.
See What We're All About
At Heritage Christian School, we exist to serve Christ by partnering with parents to provide biblically faithful, academically excellent education.