Steve Liu
President
Term: 2020-2023
Steve and his wife Denise have been part of Heritage since 2012.  They have three children: Peyton (2021 Heritage graduate), Lexi (7th grade) and Noah (5th grade).  Steve and Denise have been attending Parkview Church for over 20 years and were married there in 2002.  The Lius are most appreciative of how Heritage partners with parents to help build the spiritual foundations of their children.
---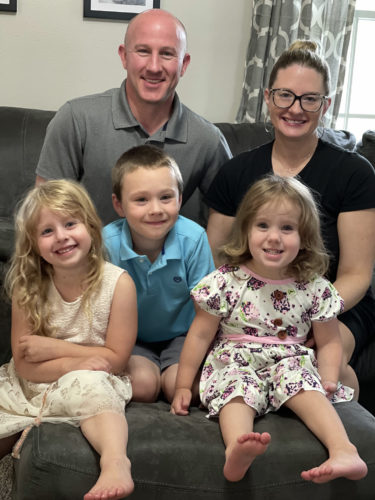 Tim Insko
Vice President & Treasurer
Term: 2021-2024
Tim and his wife, Becki, have been part of Heritage since 2019. They have three children: Samuel (3rd grade), Olivia (Kind), and Madelyn (PreK). Tim and Becki have been devoted supporters of Christian education ever since Becki taught at Genesee Country Christian school in upstate New York. The family attends Parkview Church, where they became members in 2005.
---

Mary Palmer
Term: 2022-2025
Mary and her husband, Jack, have been a part of Heritage since 1995. They had 4 daughters graduate from Heritage and now have 2 grandchildren at Heritage. They are members of Parkview Church.
---
Chris Stoakes
Facilities Chair
Term: 2022-2025
---
Scott Kallemeyn
Fundraising Chair
Term: 2022-2023
---

Unyime Ituk
Term: 2021-2024
Unyime and and his wife, Titilayo, have been part of Heritage Christian School since 2015. They currently have 1 child at Heritage- Udeme in 6th grade. Their eldest, Kufre, graduated from Heritage in 2018. Idara & Eno graduated in 2020. They have also been a part of the Grace Community Church family since 2011 when they moved to the Iowa City area from North Carolina and they serve in the children's ministry there. Unyime is a faculty physician at the UIHC anesthesia department. Heritage has been a blessing to their family because it partners with them in helping their children see the world from a biblical perspective.
---

Chad Hanneman
Term: 2021-2024
Chad and Laura were married at Grace Community Church in 2012.   Chad is a dentist at The Family Dental Center in Coralville and Laura is a Mary Kay consultant.    They have three children at Heritage.   Bella, Truitt, and Mallory love the staff and teachers as they continue their education since they started in 2019.   Chad and Laura feel blessed that Heritage is alongside them in teaching a Christ-centered worldview.
See What We're All About
At Heritage Christian School, we exist to serve Christ by partnering with parents to provide biblically faithful, academically excellent education.