How Dedication to Faith and Education Guided Heritage Through a Pandemic
To know wisdom and instruction, to understand words of insight, to receive instruction in wise dealing, in righteousness, justice and equity; to give prudence to the simple, knowledge and discretion to the youth. The fear of the Lord is the beginning of knowledge. – Proverbs 1:2-4, 7 (ESV)
The Challenge
This time we currently face is undoubtedly uncertain for most of us. But as educators, we face the challenge of giving our students an optimal remote learning experience during these crucial years of development, all while navigating a global pandemic.
An Opportunity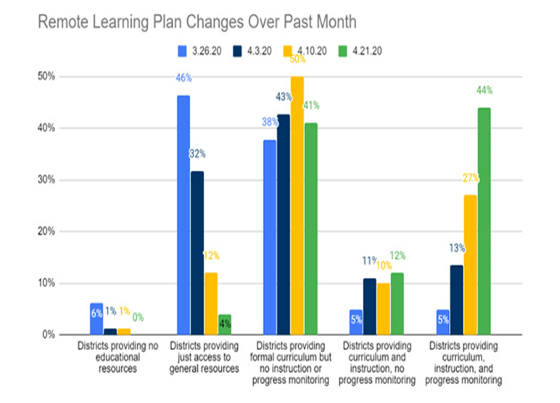 Although the classroom hands-on experience is something not even the most advanced technology can replace, Heritage was able to successfully give our students an optimal remote learning experience and be in the top 5% of educational programs across the country to become an early adopter of remote learning.
Figure 1 summarizes how schools and districts across the country addressed instruction during COVID-19 and remote learning. Recognizing the importance of continued education and being proactive, Heritage started remote learning with required learning, provided curriculum, instruction and progress monitoring from the day our students came back from Spring Break on March 25, 2020. This puts our institution in the top 5% light blue column on the far right of the figure. While a significant number of schools are now putting these remote learning steps into effect, we took steps initially to ensure the continued learning environment for our students immediately and throughout the remainder of the school year.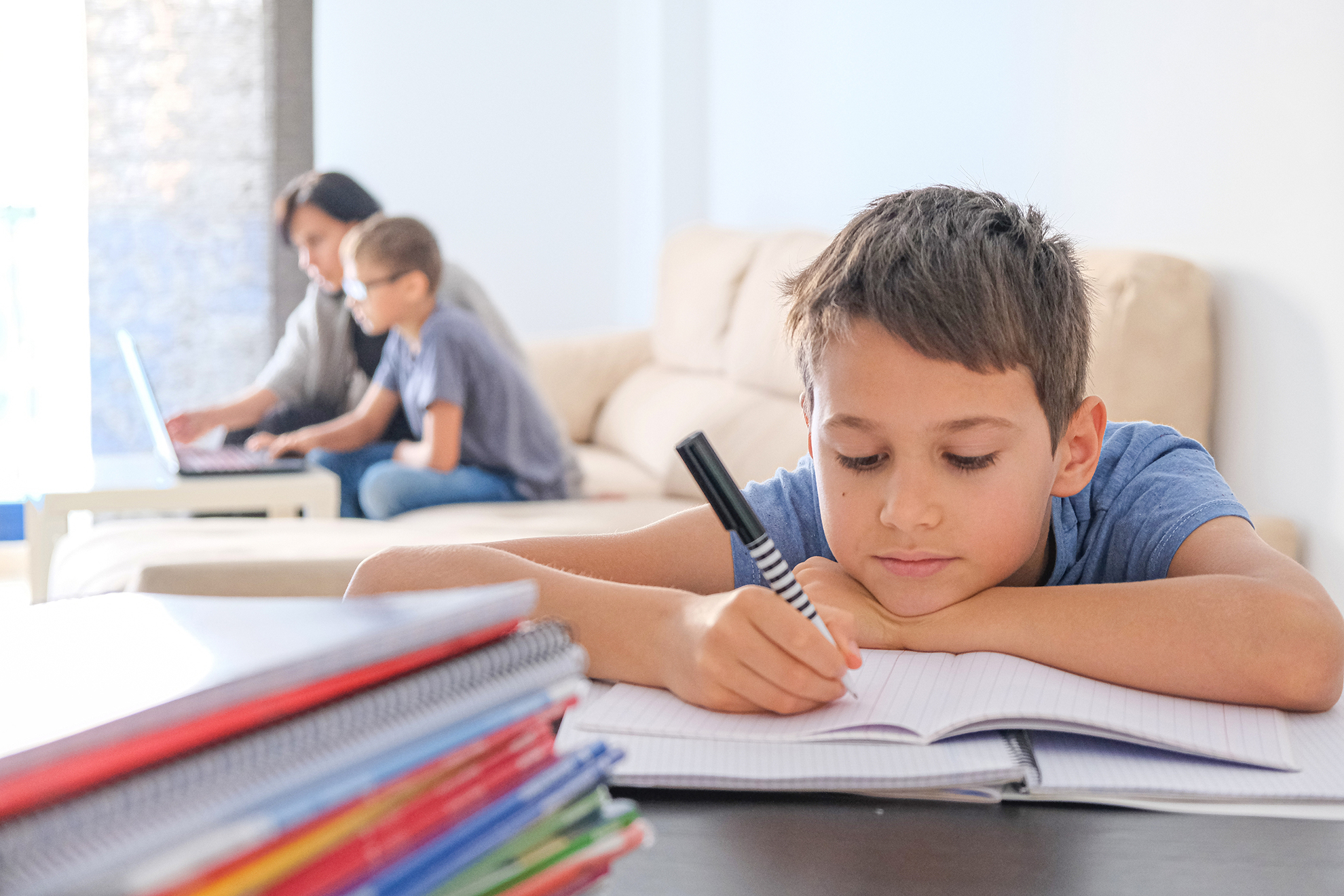 Head of School, Scott Montgomery, gives us an inside on how this was possible and what's in store for the future.
Supporting our Students
Q: What made Heritage decide to be proactive on the start of remote learning even before other surrounding schools made their decisions?
A: Our Mission compels us, as partners with parents, to provide a Biblically faithful, academically excellent education for our students – it doesn't say, "Unless we have a global pandemic." We felt from the beginning of the COVID-19 school closures that our commitment to parents and students required us to continue to provide a learning environment for our students that fulfilled that Mission.
Q: What steps has Heritage been taking to make sure their students are getting the academic resources they need remotely?
A: Even before the school year ended we began to think about the next school year and how we would respond if we were forced to implement remote learning again next year.
We've been working with the Grant Wood Area Education Agency (GWAEA) to implement a Google Classroom platform which will provide a common platform for any remote learning effort next year. The platform benefits the school even if we don't have to implement remote learning next year by providing tools for students and teachers that provide easy access to materials, less paper transfer and use, and a variety of additional tools that will allow students to engage with each other and their teacher(s) in new and innovative ways.
In addition to professional development on Google Classroom our staff is also reviewing GWAEA's Continuous Learning Field Guide which has been developed to assist teachers in developing lessons and adapt content for remote learning.
Finally, our staff is spending a portion of their summer reviewing current curriculum guides and our scope and sequence to determine what content is more appropriate to be delivered remotely vs. in-person. In doing this we hope to be better prepared for a variety of scenarios and deliver content to students that is most appropriate for any learning situation.
Q: What steps has Heritage been taking to make sure their students are getting the emotional support resources they need remotely?
A: Teaching and learning is a contact sport. Part of the challenge the pandemic presented for educators and students alike is that it limited the interaction that's so important in learning. I asked one of our teachers, why remote learning felt so challenging sometimes, she said without missing a beat, "We engage deeply and personally with students every minute of the day – we can't do that remotely; you can't convey the message on a Zoom call that a smile or approving head nod does in the classroom." The emotional connection is critical for teaching and learning.
In order to overcome the absence of that emotional connection that remote learning brought our teachers still found ways to connect with students and families during our time out of the building. Drive-by birthday celebrations, hand delivered notes of encouragement, random coffee drops to parents, and other ways to engage to keep that sense of community.
I loved too that our staff found ways to do things remotely and online that still allowed for fun during the school day. There were Zoom scavenger hunts and online bingo boards, and a variety of video chats to try and keep that connection going.
We hosted a family Kahoot game night that brought our families together for fun and fellowship – it was fun seeing all the smiling faces of our students and their parents that evening. We also found a way to make our 8th grade graduation special for students with an in-person parade of graduates and balloon release after our virtual graduation ceremony. Perhaps the best expression of the emotional care and support for our students/families could be seen during our packet pickup sessions. While we couldn't get close physically we attempted to make them fun events and the discussions with parents and students, the smiles, and the laughter were good for the soul.
None of this is what we planned for this year but I am grateful to our staff for their dedication and determination to ensure that students were cared for – academically, spiritually, and emotionally.

Reflecting and the Future
Q: Looking back on your planning and implementations for remote learning during this Coronavirus Pandemic, what do you believe was most successful? If you had more time to plan, what would you change?
A: I think the thing that was most successful was the fact that our teachers transitioned so quickly. We did not have a schoolwide content delivery platform (e.g., Google Classroom, Canvas, etc.) in place so we made the decision to "go with what you know." Many of our staff had been using tools like SeeSaw, FlipGrid, or other tools in their classrooms so rather than introduce something new and require them to learn something on the fly we made the decision to utilize those tools to ease the transition to remote learning.
One of the things that "going with what you know" showed us was that our attempt at transitioning quickly required parents with students in multiple grades to work within multiple platforms – with multiple logins. Our Google Classroom effort this summer should help with that issue.
Communication was also an issue I wish we would have spent more time thinking about. If you were a parent with students in multiple grades, the way we communicated with you was different from grade to grade. Some families received daily communications, others weekly – it's not the communication was bad, it just wasn't in a consistent format. We're working to improve that in the coming year.
I also think that while we were quick to act we also didn't realize that some content lends itself better to remote learning than others. Some content requires significant and prolonged interaction (e.g., introducing a new math concept) – Zoom can help share the content but nothing can compare to the direct engagement with a teacher. We're really looking at the content in our curriculum and determining what content is best taught face to face vs. remotely. We're also looking at how we manage both synchronous vs. asynchronous learning so that students get the direct instruction they need but also have time to work independently on concepts learned.
Q: Social learning is a large part of the development in children. Looking ahead, if a virtual campus must take place, how will you implement the social aspect of education?
A: I guess the first thing to note is our greatest desire is to reoccupy the building in the fall. No amount of digital interaction can replicate the direct teacher-student relationship. We're doing everything we can to prepare the building and our staff to be back in the building as safely as possible in the fall.
In the spring we asked teachers to hold "office hours" where they were available to answer student questions or work through challenging content at their convenience. I'm glad we did that and it proved helpful to connect with students 1:1. Going forward I think being more intentional with those office hours and purposely scheduling time with students will be important so that we're connecting with ALL students regularly. We know that positive teacher-student relationships are critical and we want to be intentional in those interactions.
I think that as we return to the building one of the things we'll be doing immediately is helping students with strategies for how they learn at home. Helping them – and parents – think about how to organize their day and their learning; how to access technology, setting schedules and boundaries; and how to ask appropriate questions when they're struggling. That last one is important. In a classroom setting you can see when students are struggling or have questions – that's not as evident on a video conference call.
As we're all emerging from our quarantine I think we've all seen the impact that socialization has on us, we are social beings. If we need to activate our remote learning plans we'll be seeking ways to emotionally engage with our students. There are a number of strategies we should explore and employ during any remote learning effort, especially those that engage other members of the family in student learning:
Read to a younger sibling or help them with their schoolwork
Make a video that helps your classmates see what it's like for you at home and helps them to have fun while they're at home.
Use your math skills and help with cooking meals or making snacks for your family
Call, text, email – or even better – make a personal card for someone and deliver it to them so they don't feel isolated
Interview your parents about a topic you're learning about in school and get their perspective.
Finally – and certainly not least in terms of emotional support – we shouldn't let a remote learning time where we find ourselves alone define us negatively. Many in our school family report that during the quarantine and remote learning time they found it to be a good time for them to get back in God's Word and spend more time in prayer – both individually and corporately. If we have to activate our remote learning plan we'll provide daily devotionals (as we did this past spring) for students. Our daily devotions were a good way for our students to see and hear from teachers and staff and help our students remember how much God loves us, desires the best for us, and recall that challenging times often bring great renewal and revival.